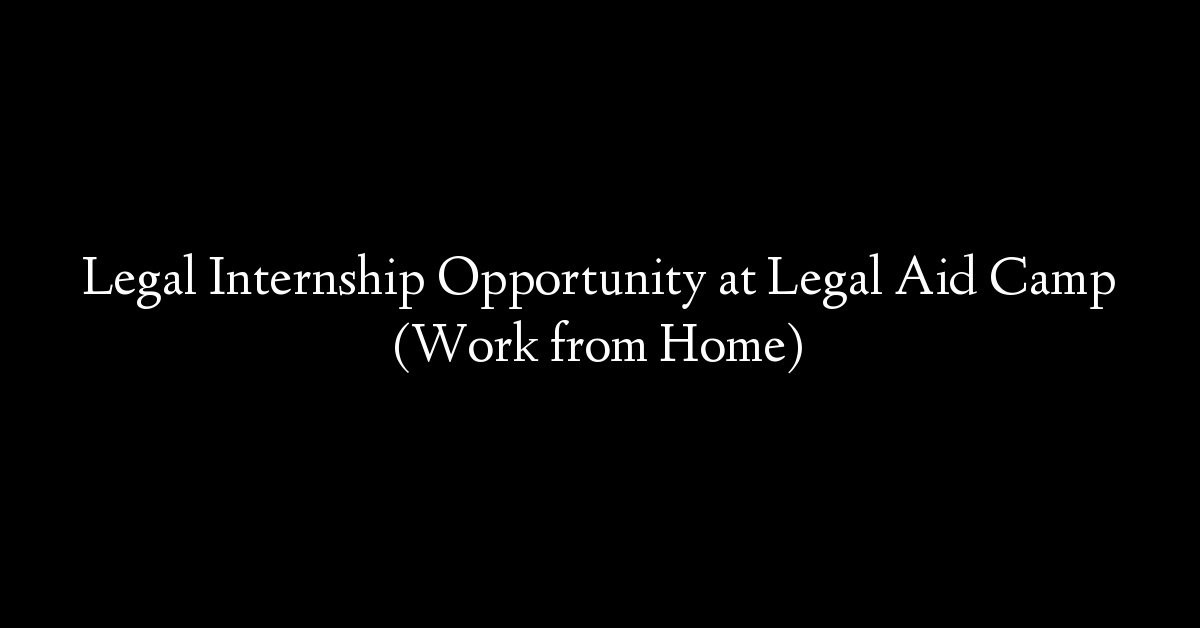 LegalAidCamp.org, a not-for-profit platform operated by the Lex Do It, a Trust Registered in Delhi in 2015 under the Indian Trusts Act, 1882 is looking to hire legal interns on work from home basis.
About the work from home job/internship:
We are looking to find a responsible law student.
Selected intern's day-to-day responsibilities include researching, filing RTIs, collecting statistics, performing data analysis, and is able to write down their findings and research into articles.
If you don't know how to do all of this correctly but would like to learn, that's fine. We are happy to accept people who will try hard.
Who can apply:
Only those candidates can apply who:
– are available for the work from home job/internship
– can start the work from home job/internship between 29th Nov'19 and 29th Dec'19
– are available for a duration of 3 months
– have relevant skills and interests
Additional Information:
You can work from home, college, wherever you want. Our communication would be limited mostly to emails. If you're bad at checking emails and replying to them regularly then you are going to have a difficult time, please apply cautiously. We will get on an introduction call with you, explain how we will work together, give you access to our system, provide you with a test task and then give you the time and freedom required to accomplish the task. We are looking for someone who is interested in research and writing and who does what they say (or is honest about the fact that they want to take a break once in a while or when you're interning full time during the summer/exam times).
We will pay you a monthly stipend of between 3,000-5,000 to start with – depending on how polished your work is. Your workload will not be immense. If you prefer longer assignments that take a week or so, that's okay. If you prefer shorter assignments which are 1-3 days long, that's also okay. The money will be transferred into your account / online wallet by the 7th of each month. After 3 months, we will review your performance and will increase your stipend.
To apply for this legal internship: Click Here
About the Company:
LegalAidCamp.org is a not-for-profit platform operated by the Lex Do It, a Trust Registered in Delhi in 2015 under the Indian Trusts Act, 1882. LegalAidCamp.org aims to bridge the gap between those who want to provide legal help and those who need legal help. Lex Do It is a group of lawyers who have been working for 5 years now towards legal awareness, representation, and assistance for all. We help those who need it the most, i.e., for the legal empowerment of the vulnerable and the marginalized. We focus on legal awareness, legal aid, psychological aid/counselling, activism, and public litigation.
---
Learn Legal Drafting and increase your chance of getting your dream legal job or Internship.