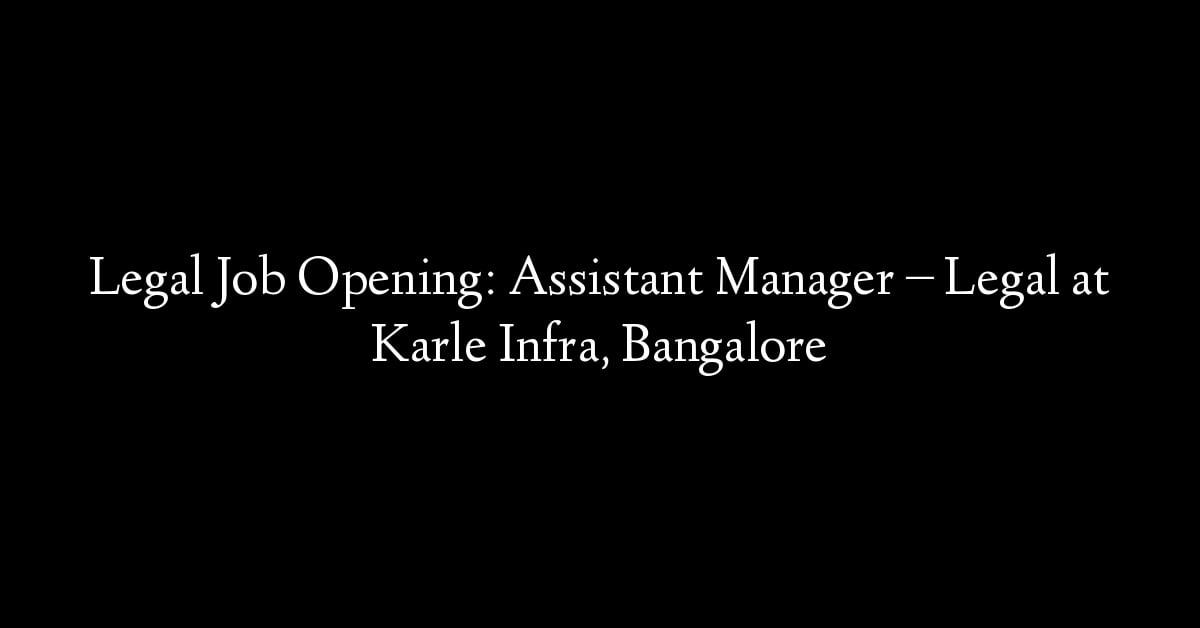 Karle Infra Pvt. Ltd., a real estate and urban infrastructure development company headquartered in Bengaluru is looking to hire an Assistant Manager – Legal for their Bangalore Office.
Job Description:
Co-ordination & support to reporting senior/s within the Legal Department WRT;
Collecting data from internal departments for RERA uploading & compliance;
RERA Compliance, coordination with RERA authority and dispute resolution, guiding, educating and supporting all concerned internal departments in compliance of RERA related requirements.
Assistance in Land Acquisition & or Development, Funding & Sales transactional documents.
Litigation Management including coordinating with external Advocates and court attendances.
Reading and understanding of title documents, revenue documents and relevant.
Assisting legal & liaison depts. in obtaining Development Plan or other approvals.
Assisting in the planning of Records maintenance.
Provide / Review of Contracts, Agreements & Deeds for internal clients like CRM, Finance, Projects, Contracts, I.T., Admin, Commercial, Marketing, Sales, Human Resources, Planning, Designs, Liaison, Maintenance, Security Etc
To apply for this legal job: Click Here
About the Company:
Karle Infra Pvt. Ltd. is a real estate and urban infrastructure development company headquartered in Bengaluru, India. With over two decades of experience in developing properties in Bengaluru, Mysore, and Goa. Karle Infra is now focused on developing a community-centric township in North Bengaluru. Karle Infra is known for its imaginatively conceptualized living and office spaces, detail-oriented planning, and energy-efficient design. With sights set on creating benchmarks in the industry, the future will see many more sustainable and creative developments.
---
Learn Legal Drafting and increase your chance of getting your dream legal job or Internship.